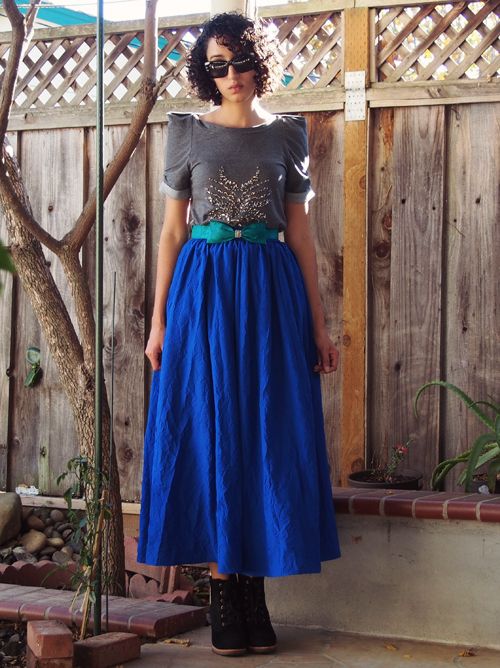 Sweatshirt top - 213 Industries by Michelle Kim (similarish
here
and
here
), Belt - vintage (my roommate's but love
this
and
this
!), Cobalt maxi Skirt - Gap (similar
here
), Boots - Uggs, Sunnies - Chloe 2145 (similar
here
and
here
)
In order to get this extra pouffy effect in my skirt, I actually had to wear another more structured, flared skirt underneath it. I know that some days I dress like
this
and other days I dress like
this
, but one of my various personalities seems to like extremely girly looks, and this one in particular is styled by one of the four part Russian Fashion pack, Ulyana Sergeenko. She's a former model, clothing designer, and wife of some rich and powerful dude in Russian, and I love that she has such a distinct sense of style. She is seemingly untouched by trends, unlike her buddies, and yet the fashion world still adores her.
Anyway, if you're interested in seeing her style and her designs,
here's
a great post on her.
Oh, and this is the outfit I wore last week when I met
Kathleen
for pumpkin-flavored treats and some shopping, hehe. You know those days when you wake up and the sky's all gray and it seems like it's going to be cold so you throw on you (cute, heeled) Ugg boots and a (cute, tailored) sweatshirt? This was that day. And it turned out to be like 80. I refuse to check the weather report as I get ready for work, and I'm not sure why that is. There were some matching gray socks involved too, which made the outfit much more cohesive in my opinion, but I couldn't find them upon photographing this.