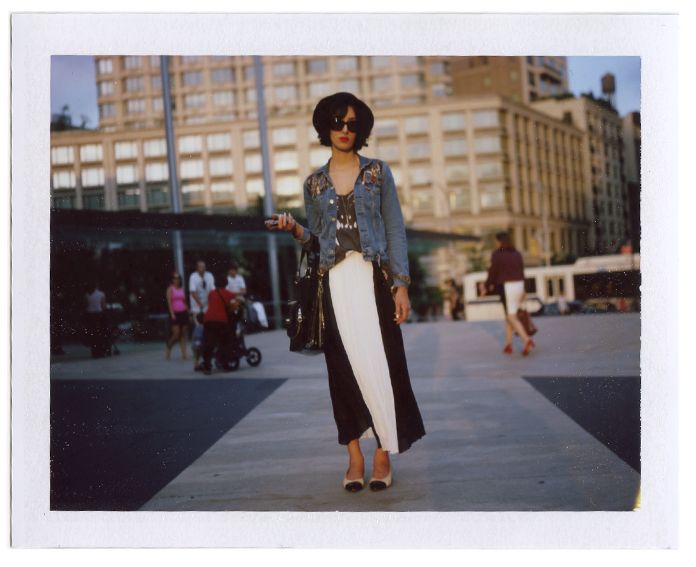 Skirt - Line & Dot (also like this), Dress worn as top - Religion, Hat - Forever 21 (similar here), Cap-toe falts - Chanel, Embossed tote - Ted Baker, Jeans Jacket - Levis, Necklace - Gorjana c/o
The top photo was by a dude named Blake who was working for V Magazine, and the bottom is an Instagram shot I stole from Ria. On New York Fashion Week day 2, I wore an outfit I described as freak meets chic. On this day I went to shows like Nicole Miller and W118 by Walter Baker. I had lunch with Amy from Chictopia and went to see a few of my out of towner friends in the evening at a bar which served sweet potato fries.
The best part of this day was just as I was leaving. Three middle school or early high school kids came up to me and asked to take my photo because they liked my outfit, and then they asked me to tell them why I decided to dress like this...what inspired this? I told them that was inspired by kids I see in the street who wear creepers and have green hair, but I am also inspired by the super editors, I'm 27 and I read Vogue. So this is my interpretation of those two things together.
Also, super rad - Elle Magazine had a lounge going and Ria and I went there to rest our feet and eat some soft serve fruit. They also were doing eyebrow threading manicures (by Sakura Nails), so I did both. I really needed that! Thanks, Elle! Thanks again for sending me, Chictopia.