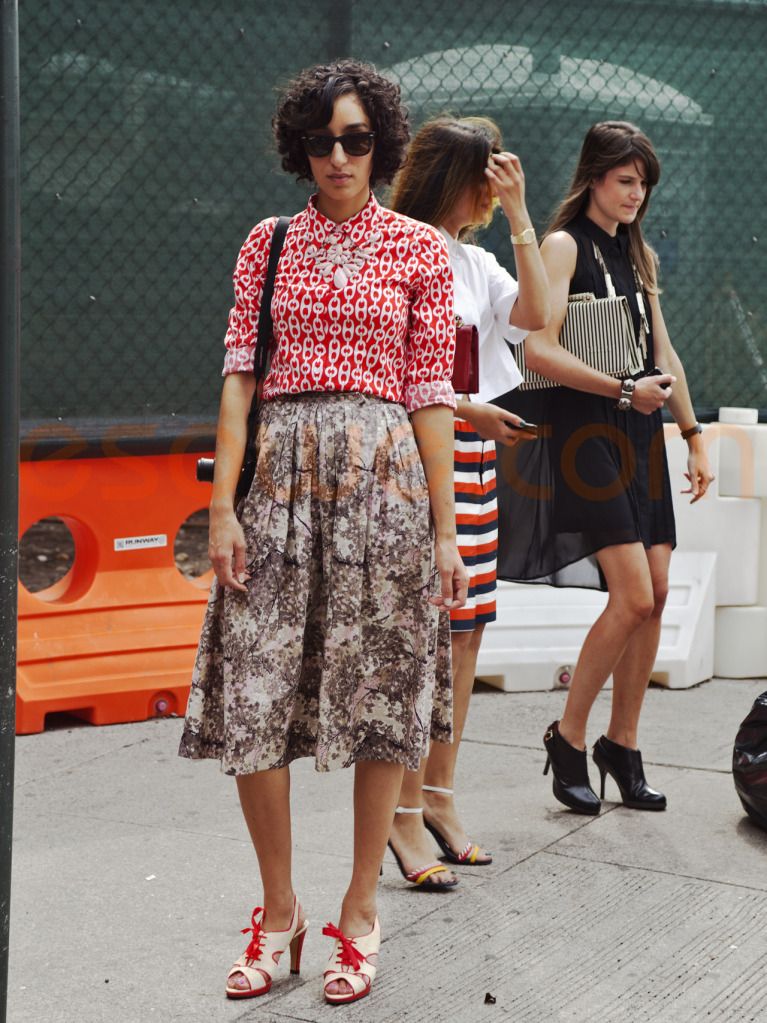 Shoes - Ramon Tenza, Skirt - Vintage, Shirt - Crossroads, Necklace - JCPenney, Sunnies - Ray-Ban, Bag - Vintage Coach. Images thanks to Kinetic Portraits.
This was my outfit for the first day of my first fashion week. I have been to New York during fashion week before and even peeked at Lincoln Center, but never had an invite to go in. Since I became an editor at
Chictopia
, suddenly that became an opportunity for me. Through a weird series of events I ended up rooming with
Ria
on the Upper East Side, just blocks away from the opposite side of Central Park. On my first day I attended
BCBG Maxazria
,
Kimberly Ovitz
, and
Tadashi Shoji
. O actually had a chance to interview the designer Kimberly Ovitz just an hour before her show, and you can read that here. My favorite was BCBG Maxazria. I've long been a fan of BCBG Maxazria, but I think part of it had to do with the fact that it was my first show of my first fashion week. The music was amazing. I understand now how runway shows are such a big deal. It's so much more than the clothing...it's like a theatrical performance.
After my shows, I walked to Magnolia's and Shake Shack and had a burger and banana pudding. I put on my roll up flats and walked clear through Central Park and then took the train the rest of the way home. The shoes in the photo are sometimes what I refer to as my torture heels. I was so tired. But it was a good day. It felt so amazing to be inside Lincoln Center after having stood outside it, wishing I could be inside. As I arrived 15 minutes like for the BCBG show, I have to say I had a rush of adrenaline as I made a dash for the center's stairs while three or four photographers had their lenses pointed at me. This was the real deal. I was there. I was really
there
.