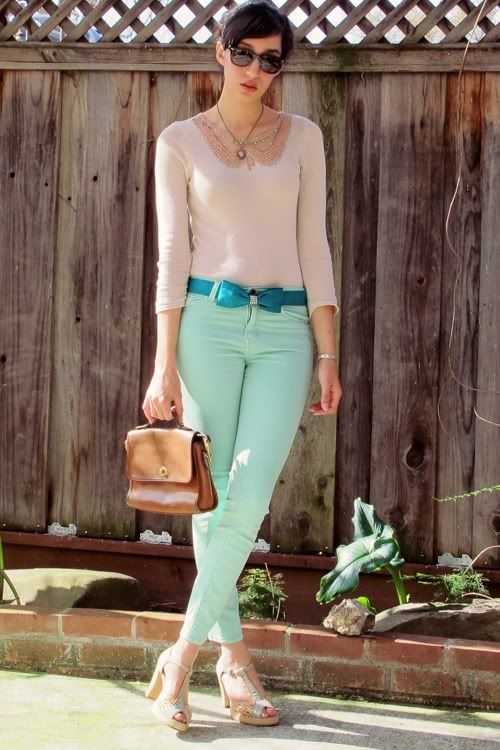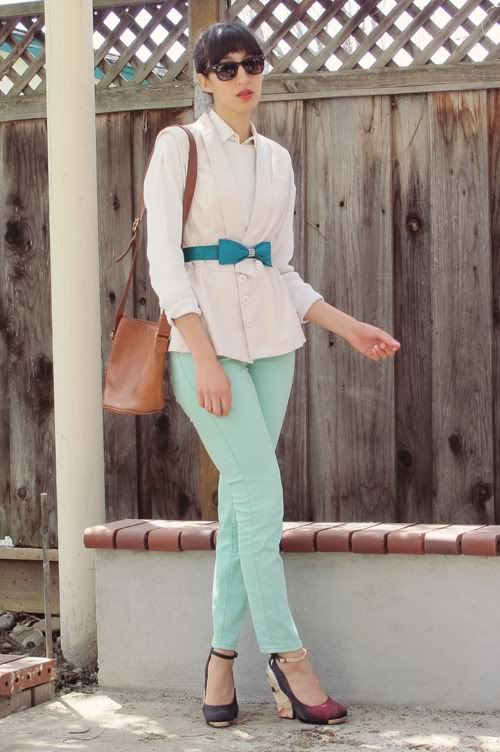 I'm hanging out in Hawaii this week in honor of my birthday (yay!), so no new outfit post for now.
When it comes to mint jeans, I know I've fallen and I've fallen hard. Everyone seems to want to get on the mint brick road - "mint jeans" is one of the top searches that brings people to my blog. So, to make it easy for everyone, I decided to make a roundup of some of my mint jean outfits insofar.
First of all,
my mint jeans are BDG
and I got them from Urban Outfitters. You can find them
here
. I was so pressed to find mint jeans at the time and no one carried them besides Urban. To my knowledge, I still haven't seen places like F21 or H&M carry them. The Urban Outfitters pair were the cheapest, best quality ones I could find. There was no way I was dropping $100+ on them via Current Elliot or so.
When it comes to colored denim, I was never a fan of the bold colors and only met muted earthy colors half way. But pastels...pastels I can dig. I love the fact that they're so different from the average blue jeans, but at the same time aren't abrasive at all. While I like other other pastel jeans, something about mint in particular is just
so
refreshing. The only other color I might pick up if I can find it is pastel pink. High waist and slightly cropped would be ideal...I don't even know how to wear low rise any more.
After a bit of wardrobe experimentation (meaning I bought a pair and just ran rampant through my closet), I think I have the recipe for wearing minty jeans to a tea:
Girly. The pastel color of the jeans easily lends itself to be worn with tops with sweet details, heels, bows, etc.
With other pastels. No colorblocking for you? Pastelblocking is the new blocking. Just break it up with one strong color, like a bold green belt. This will keep you looking minty fresh instead of easter egg.
Monochrome. One of the top looks from this past runway season, a head-to-toe mint monochrome is very fashion-forward, but also calming and demur.
With neutrals. The easiest way to wear pastel anything is to pair it with neutral pieces, like a cream top or white blazer.
Grunge. Every though the color gives itself naturally towards being worn in an ultra-feminine manner, there's nothing that says you can't mix it up! Take your pastels into the arena of rock n' roll...because, what's more rocker than bit of unexpected juxtaposition?
With neon. Speaking of juxtaposition, how rad is the neon-green-pastel-green combo? If you don't feel like throwing as many curve balls in one outfit as I did above, try some mint jeans, camel heels with neon details, and a neutral top. It'll be fresh, fun, and uber-chic all at the same time.