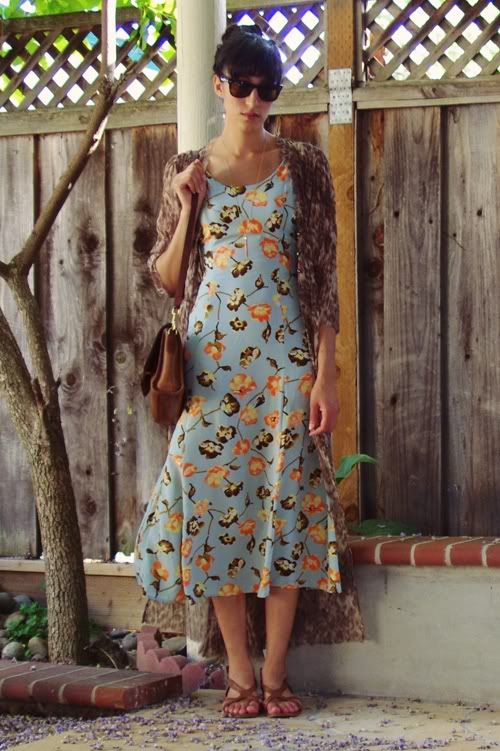 Dress worn as duster - Free People, Dress - Vintage, Necklace - Gorjana c/o, bag - Vintage Coach, Sunnies -Ray-Ban
Okay, so I know you're probably thinking "Why is this girl still talk about Coachella?" but hear me out! This was my original outfit for Coachella day 1 that I didn't really get to wear. The thing about all those Coachella outfit guides is that they don't really take into account how hot it is at Coachella. I mean they do a little, but not enough. It's usually over 100 degrees out there. This means that no matter how much you love fashion, you want to be as close to naked as possible out there. I think I'll make a REAL Coachella dressing guide next year, but a few common ideas that people tout around that don't work in reality are:
Hats. Sure they block you from the sun, but they also warm your head and its hard to see if they have a wide brim. Also, come nightfall you really won't want to wear it anymore, and then you'll be stuck wearing it. A lot of those big, black floppy hats are made of wool...not good for the heat.
Boots. I can't believe how many guides suggest boots and how many people wear them. When its 100 plus degrees, your feet will scream bloody murder if you wear anything besides sandals. The trade off of course is dirty feet and the possibility of being stepped on. Believe me, it's worth it.
Jewelry. True story: At Pitchfork last year, the two necklaces I was wearing started to react with my sweat. My neck became itchy and before I knew it, the color of both had rubbed off onto my skin. Even if dainty, metal doesn't feel good against sweaty skin.
Layers of any kind. As I said above, you will want to be as close to naked as possible.You will be so hot fashion flies out the window. I don't think its easy to fathom 104 degrees when you're in a nicer climate, even if you have experienced it before. You just won't remember.
That said, I obviously didn't actually wear this to Coachella day 1. I have been to Coachella before so I thought I packed appropriately, but as I said in point #4, I just couldn't really fathom the heat from where I live. As soon as I arrived to the town of Indio I rapidly had to change my wardrobe plan. I don't care. I had an amazing time as I outlined
here
.
Anyway, next time I'll do better. Still, I really liked this pattern-clashing outfit I had planned. I mean what goes better with leopard than floral?