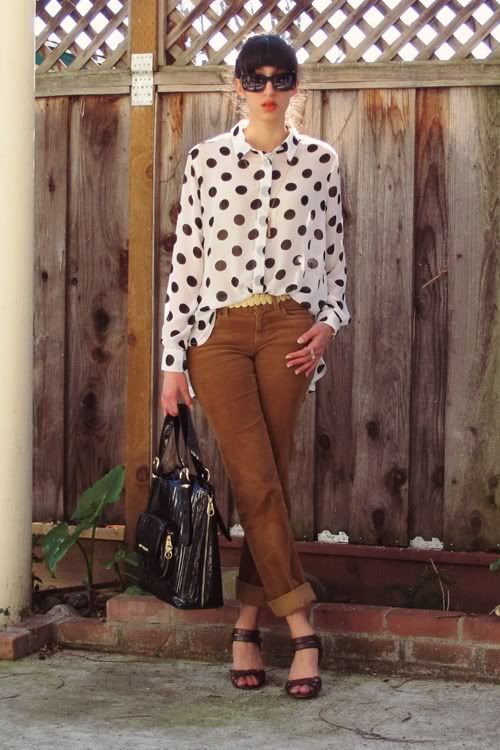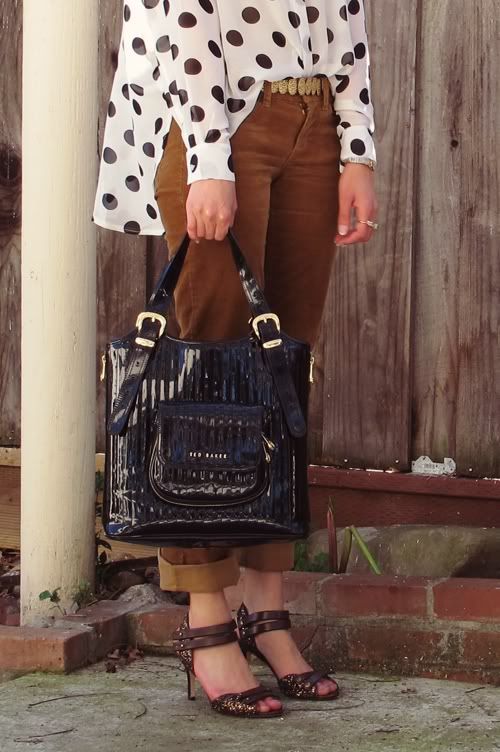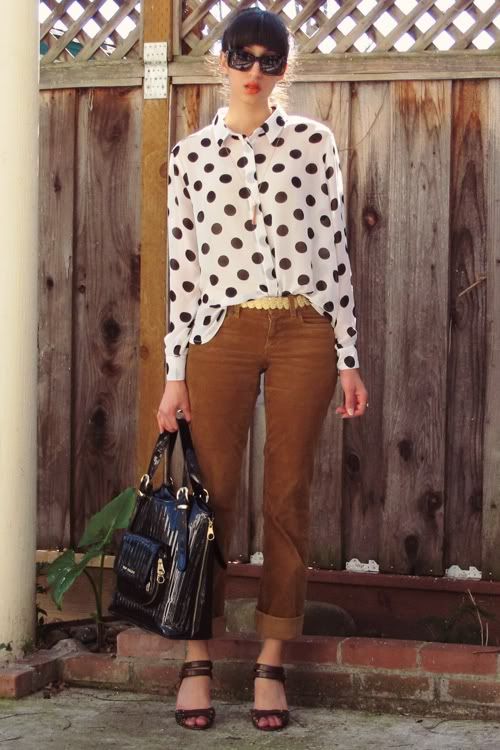 Bag - Ted Baker, Cords - J. Crew (similar here), Shirt - Mink Pink, Sunnies - Chloe (similar here), Necklace - Gorjana c/o, Rings - vintage, Forever21, Heels - Cynthia Vincent
Remember when I got these shoes and
told you how excited I was
to wear them? I really was. I wore them about three days later and during that day - the first day I ever wore them - both the straps on the left shoe popped off. Sad Sarah :(. I'm not sure if I should return them or just pay the price to fix them. I love them! One thing is for sure - if you thought, like I did, that some fancy schmancy brand name means good quality, you are most definitely wrong. I've never had a strap pop off a sandal, and I own many crappy heels.
Now for the none outfit related stuff...
*********
Have you ever walked into a bathroom and heard a girl telling a story that sounds so painfully generic that you just want to grab said chick and be like "Woman, get a grip. Can you hear yourself?" I'm talking a story that sounds something like this:
"...So after that he said he was sorry about being so late but he'd call me once he got back from his trip to Denver, but I'm pretty sure he got back from Denver two weeks ago and all he's done is sent me a text that said 'Hi!' and when I responded he didn't respond again. What do you think, Jill?"
Listening to people say these things makes me want to barf. Not because I think I'm above it, but because I've been there and I'm sure I'll be there many more times in my life. It just makes me wonder why things can be so clear to an outsider, but when it's happening inside your own head there are excuses and reasons for everything, you know? All I see around me are beautiful, intelligent women complaining about the losers who they like, and how those guys don't realize that the person in front of them might be the best thing they ever had. It makes me wonder how people get married.
I have to say, I would love to know what kind of conversations happen in the men's bathroom.