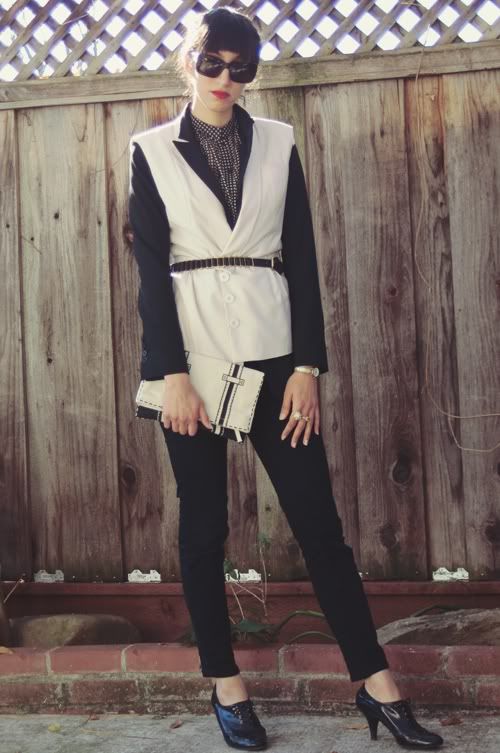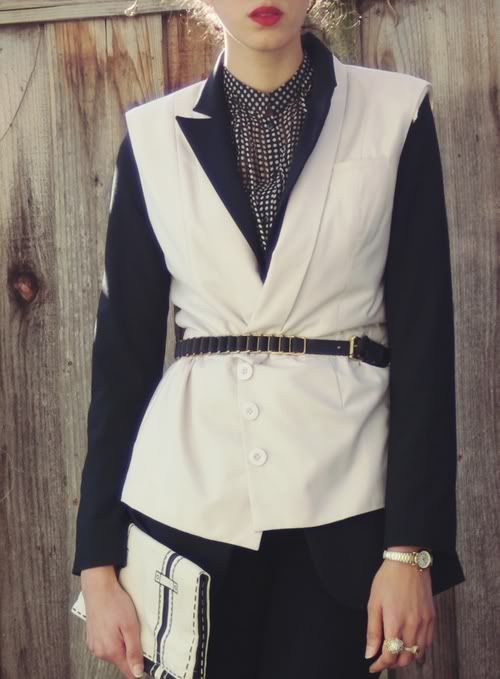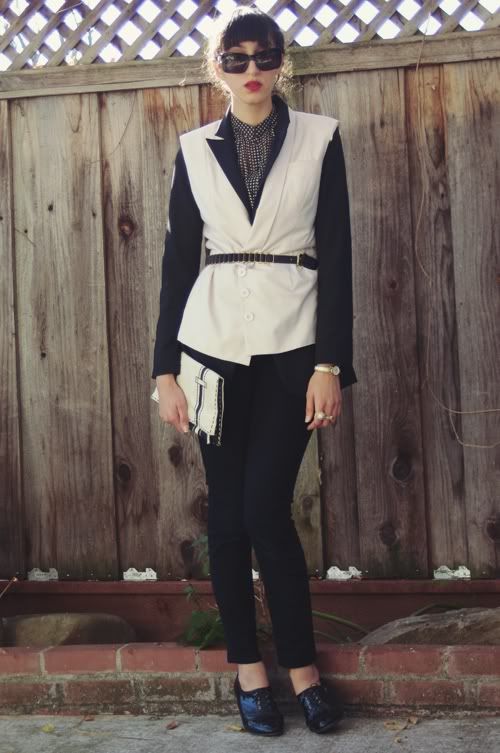 Vest - MM Couture
via Crossroads
, Jeans - BDG, Blazer - Express, Clutch - Cooperative, Oxfords - Franco Sarto, Sunglasses - Chloe via TJ Maxx, Belt, rings and watch - vintage/thrifted
There's always something a little odd about writing a first blog post, an introduction. My name's Sarah and I guess this is my new personal style blog. I've been reading personal style blogs and watching personal style bloggers grow for as long as I can remember. When the concept of personal style blogging first began, I was there as a viewer. I always wanted to have one, but there were so many reasons not to. "Well, I don't have very my designer gear," or even "But what if people don't like me?"
The last question doesn't matter in all honesty, because I am here, writing this, for me. The first question also doesn't matter because styles transcends garments. So when
Meghan
asked me if I had a personal style blog, I told her it's because I didn't have one because I don't have a boyfriend. Oddly enough, just about a few weeks later, I was having coffee with someone and we discussed this dilemma. She happened to know a blogger who broke up with her boyfriend and ran into just that problem. She ended up investing in a tripod and working with local photographers, and soon her photos were better than before.
I'm a
fashion editorial photographer
based near San Francisco, and while that does give me some advantage when photographing myself, it's not easy. But at the same time, you'll have the comfort of knowing that all of my photos are taken with a tripod, because I really want to do this. I really want some sort of visual journal of my changes in dress. Like it or not, clothing says a lot about who you are. You choose to wear what you choose because it expresses something you'd like to put out to the world. It's sort of like those projects where people take a photo of themselve everyday for x amount of time. Changes may be small but they add up to a lot. That's what people mean when they say "I dress based upon my mood." We all do!
So basically, this is just me doing me. This is what I wear, this is who I am. Pleased to meet you.